Why companies should think about optimizing their pricing strategy?
In a fast-moving world of technologies "paper" ways of exchanging information are far away behind us. Price management is a grueling process especially nowadays while living in information buzz – like almost everything and everyone on the earth requires support to be succeed. Furthermore pricing strategy is crucial factor which help companies to growth their revenue. Technology advanced tools become partners in crime – together we know better how to optimize to avoid business failure. But in fact, what are the key trends making us think about optimize our pricing strategies?
Many generations, many sections, too much information
Exchanging of know-how and reflection of company experts impacts on our business decision. Baby boomers, Generation X and Millennials – presents of those generations is visible to the naked eye in many enterprises. How to communicate among various departments and generations having separate opinion, needs, abilities and attitude? Finding a common way of understanding things considering age-differences is a fundamental for company, which looking for effective method of acting.
Digital disruption and transformation
Digital disruption and innovation are reshaping the business landscape globally and its significance still (and only) growing. According to the Deloitte Global Cost Survey in 2017 many companies around the world represented save-to-grow mindset to fund their growth strategies in an improving economy. After two years previous mindset expanded into save-to-transform. That means technology became a one of key lever helping to fund companies' growth strategies. So today it's not only about tools, but first and foremost about holistic approach to harness transformational power of digital technologies to streamline cost structures and generate savings. Investing in IT and innovation can transform the business and help it survive and thrive in a world of digital disruption.
Various and fast-changing customer needs
To know customer needs and disposition companies need a wide-range bunch of information. In the digital age consumers are more empowered and more demanding than ever before. Good customer research means better tailored price meeting company and external environment needs. If you fail to lose digital insights and data to business' benefits the company just missing out on vital opportunities that can improve efficiency and output.
Manage Rebate and Loyalty Programs with No Limits!
PriceWise helps your company achieve top-line loyalty goals in a cost effective manner. Create Rebate Programs You Need, without any IT involvement!
See PriceWise in action >>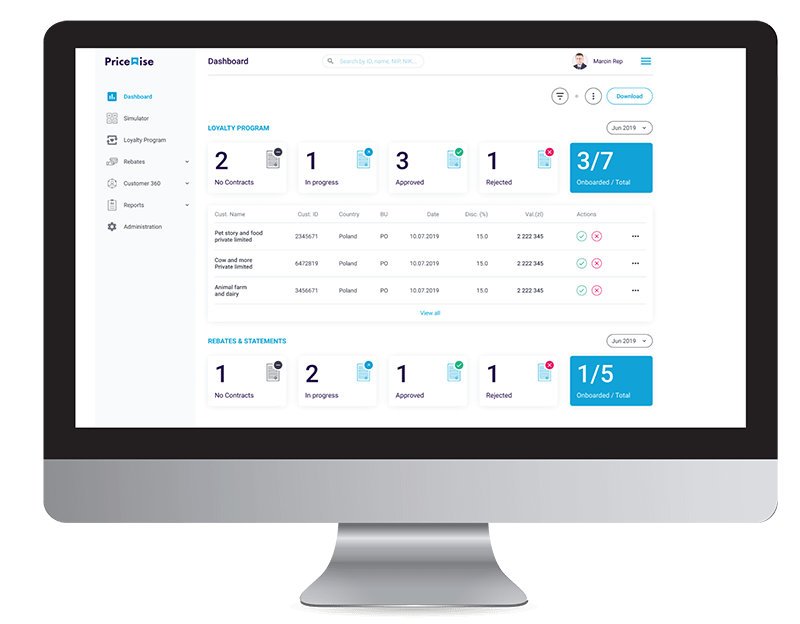 Fill in the form and let one of our experts show you how PriceWise works
Address:
C&F S.A.
ul. Domaniewska 50
02-672 Warsaw
Poland