Pricing management software: the next big thing to boost your sales
At a time when digital transformation is becoming more and more widespread as an important factor in building the competitive advantage of many enterprises, we are witnessing the technological race in many areas, with sales as one of the most often subjected to changes. In the Digital Economy and Society Index Report 2019 by the European Commision, "Customer Relationship Management" holds fourth position among processes digitised by European businesses.
Companies implement digital technologies in many areas related to sales, from marketing through CRM to operations and logistics. But sales is primarily relationships and as such, it deserves careful treatment. Loyalty programs are there for you to maintain manufacturer-customer relationships so that they last long and be mutually beneficial.
Excel sheet and a piece of paper are not enough anymore
With high sales volumes and a large number of customers, traditional solutions are not enough.
Companies face challenges due to lack of regular control over the rebate calculation process, execution and maintenance of frequent commercial and pricing policy updates. Sales reps often have very limited access to sales and rebate contracts and pricing information.
Traditionally, multi-level and complex algorithms for rebate calculation are managed in Excel sheets. With all due respect for this tool, with a large scale of operations and dispersed sales data sources the integrity and quality of data may cause concerns.
Competition does not stand still
"If you are not taking care of your customer, your competitor will", Bob "the Idea Man" Hooey once said. The quote should be updated with "use his digital tools to do it" added at the end. The global loyalty management market was valued at USD 2617 million in 2018 , and is expected to reach a value of USD 9280 million by 2024, at a CAGR of 23.3% over the forecast period (2019-2024)* .
New technologies are there for your benefits
Customer loyalty management systems nowadays bring all the new technologies to the table, including machine learning and other AI-based features. Tailor-made solutions created by experts with B2B experience could add a lot of value, as our implementations for animal pharma and animal health large industry players confirm.
Our experience is, that the introduction of PriceWise solution for traditionally functioning businesses brought the following benefits:
Reduction of head count involved in rebate management
Payment delays reduction
Quick adaptation to changing market conditions and customer behaviour
Reduction of calculations errors and thus, customer satisfaction improvement
Ongoing process optimization through monitoring
Reduction of infrastructure costs – thanks to Cloud
Increased partner loyalty
Up-to-date result monitoring and measurement
Reduction of back-office workload for sales personnel
Automation of multiple steps of the customer loyalty management processes
Verwalten Sie Rabatt- und Treueprogramme
Keinerlei Beschränkungen!
PriceWise hilft Ihrem Unternehmen auf kosteneffektive Art und Weise maximale Kundenbindung zu erreichen. Erstellen Sie die Rabattprogramme, die Sie brauchen - ganz ohne IT-Support!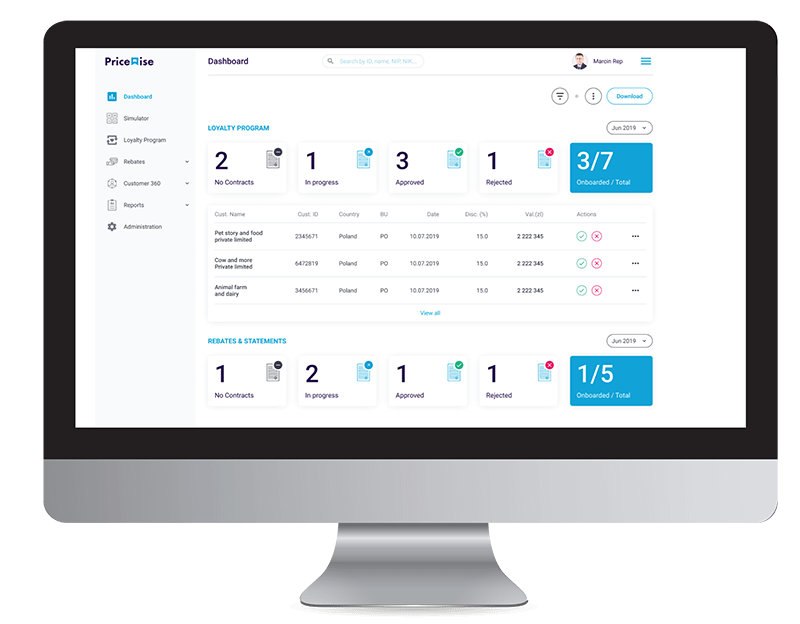 Lassen Sie sich von einem unserer Experten zeigen wie PriceWise funktioniert. Füllen Sie hierzu das beiliegende Formular aus
Address:
C&F S.A.
ul. Domaniewska 50
02-672 Warsaw
Poland