How to create long-lasting relationships with your customers?
The challenge
Our client from the animal pharma industry needed a sales support solution aiming at creating a long-term supplier-customer relationship by providing veterinarians with offered medicines at an attractive price. High value of customer loyalty can be achieved only through well managed incentive (pricing/rebate) programs for vets.
Key challenges for implementing the incentive programs were:
Programs are often difficult to manage and time consuming
Strong back office support is required to operate loyalty programs effectively
Partnering vets/farms complain about slow and unreliable discount calculation and poor information
An important assumption for the project was to design it as a comprehensive tool able to operate in four sales verticals and maximize value by effective price management.
Solution: PriceWise
The solution delivered by C&F named PriceWise, as it's key idea was to deliver additional value for loyal customers by holistic support of the client's loyalty programme. The cloud-based dedicated SaaS application has been equipped with sales data import, rebate and payment calculation, contract tracking and analytics functionalities. It has been built on the Outsystems platform and is ready to work at the different markets such as: Polish, Hungarian, Romanian, Czech and Slovakian.
PriceWise implementation benefits:
New solution easily identify which customers, regions and sales reps: saving time, cost reduction
Performance goals achieved
Increased Partner Loyalty
Reduce errors and disputes with rebates by automatizing calculation and tracking performance to agreed-upon goals
Up-to-date result monitoring and measurement
Reduce Back-office Workload for Sales Personnel
Ensure goals are clearly communicated, accurately measured and rebates quickly paid out to partners
Automate multiple steps of the process
Verwalten Sie Rabatt- und Treueprogramme
Keinerlei Beschränkungen!
PriceWise hilft Ihrem Unternehmen auf kosteneffektive Art und Weise maximale Kundenbindung zu erreichen. Erstellen Sie die Rabattprogramme, die Sie brauchen - ganz ohne IT-Support!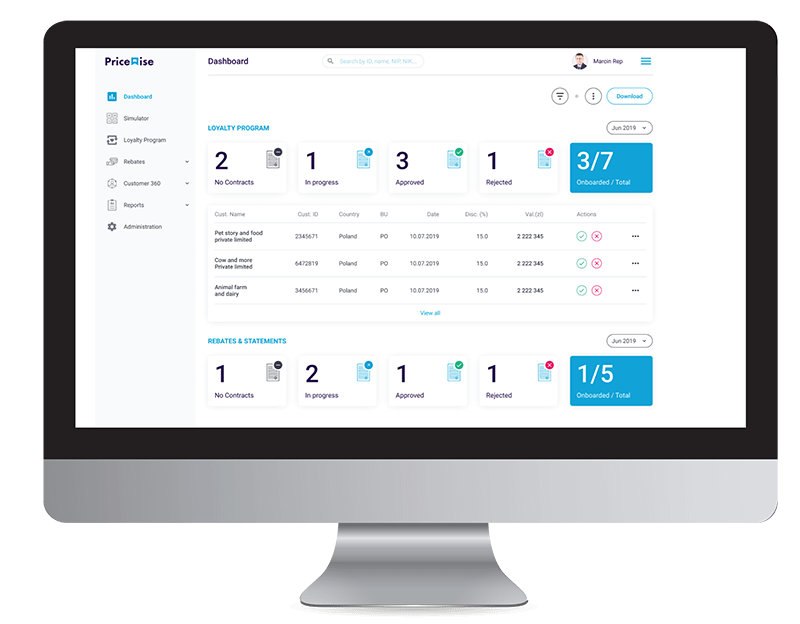 Lassen Sie sich von einem unserer Experten zeigen wie PriceWise funktioniert. Füllen Sie hierzu das beiliegende Formular aus
Address:
C&F S.A.
ul. Domaniewska 50
02-672 Warsaw
Poland