How to boost profits by fine-tuning your rebate policies?
Challenge
One of our clients, an animal health product manufacturer, offers hundreds of products to over 10 000 customers through distributors. The company employs around 100 sales reps to manage over 1000 contracts annually in a very competitive landscape.
The client has been basing his rebate calculation and policy on sales data: upwards of 10k customers, over 2 mln EUR payments monthly and growing importance of buying groups of customers. Proper rebate management process is a key for success in customer satisfaction and stimulating sales. The company was facing challenges in this field due to lack of control over the rebate calculation process and had difficulties with delivering monthly rebate and payment calculation by mid of each month. It was also hard to execute and maintain frequent changes of commercial and pricing policy, as the sales reps had no access to sales and rebate contracts and pricing information.
Moreover, the client used to work with a multi-level, complex algorithm of rebate calculation, extremely difficult to manage using just Excel and paper tools. Integration with dispersed sales data sources, was a major cause of concern in managing the integrity and quality of data.
In addition, it was necessary to switch from too expensive and inefficient outsourced resources to company's own resource-based process management.
Rebate Management and Contract Lifecycle Management Solution:
C&F proposed and implemented a desktop and mobile-access SaaS based solution with field force contract management tools and dynamic management of workflow approval.
The solution also contained configurable simulations of expected return on investment for customers. The fundamental idea of the system was to make it easily adaptable to most commercial policy models (such as like VetPharma markets), with quick integration between rebate application and any of ERP systems (SAP, Oracle).
Pricewise implementation benefits:
Head count involved in rebate management process reduced by 50%
Payment delays reduced from 60/80 days to no more than 1 day
Quick adaptation to changing market conditions and customer behaviour
Automated integrated environments reduces calculations errors and improves customer satisfaction
Ongoing process optimization through monitoring
Intuitive, light UX and look-&-feel design reduce training and user adoption time
BYOD strategy (Bring Your Own Device) – availability on web, iPad, iPhone and Android devices
Cloud-enabled – reduces infrastructure costs
Verwalten Sie Rabatt- und Treueprogramme
Keinerlei Beschränkungen!
PriceWise hilft Ihrem Unternehmen auf kosteneffektive Art und Weise maximale Kundenbindung zu erreichen. Erstellen Sie die Rabattprogramme, die Sie brauchen - ganz ohne IT-Support!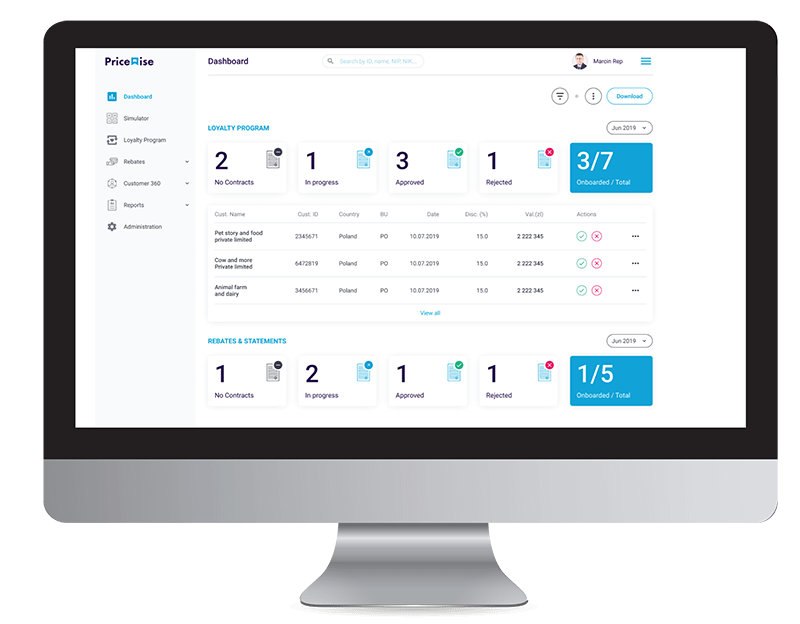 Lassen Sie sich von einem unserer Experten zeigen wie PriceWise funktioniert. Füllen Sie hierzu das beiliegende Formular aus
Address:
C&F S.A.
ul. Domaniewska 50
02-672 Warsaw
Poland