3 key factors worth taking into account when choosing price management software
Selecting software from the multitude of solutions available on the market seems to be an ungrateful work, but effort made in the beginning bears fruit in the future. What does upgrade from traditional spreadsheet to specialized software mean? Ease, comfort, competence and much less effort. Sounds great? Before picking your supplier, find out three key features of software that will help you make the decision.
Easy and fast implementation
Fast-moving world requires fast changes and agile models ready to implement ad hoc. Ability to combine many sources of information in a short period of time is a very important feature. Why? You once built the company, there is no need to re-create something that already exists. You need a system, which lets you make the most of your strengths, synchronizes them into one place and after a relatively short period of time gives you a tool helping your company in further growth.
User-friendly interface tailored for everyday work
Information overload constantly interrupts our attention and that doesn't go well with deeper thinking. Do you know how much information do we get every day? We hear more than 100 000 words from various sources during all day.
There's a time to think about people in your company, who are responsible for your pricing strategy and give them a tool which will help them to analyze intelligence and make right decision. They have to notice a lot of information regarding your internal and external environment: production cost, consumer needs or market trends. And to make it right they need a tool that in intuitive and user-friendly manner will provide them with all the necessary information.
Trustworthy Partner
And last but not least… The reliable supplier of IT solutions in your company. Searching for and strategic advisor, not an executor is crucial in implementation systems covered all your business. When running even a short-term partnership with Third Party there has to be an agreement that you two are going in the same direction. Pricing management is still underrated, but in fact has a strategic impact on the stability of your business.
Verwalten Sie Rabatt- und Treueprogramme
Keinerlei Beschränkungen!
PriceWise hilft Ihrem Unternehmen auf kosteneffektive Art und Weise maximale Kundenbindung zu erreichen. Erstellen Sie die Rabattprogramme, die Sie brauchen - ganz ohne IT-Support!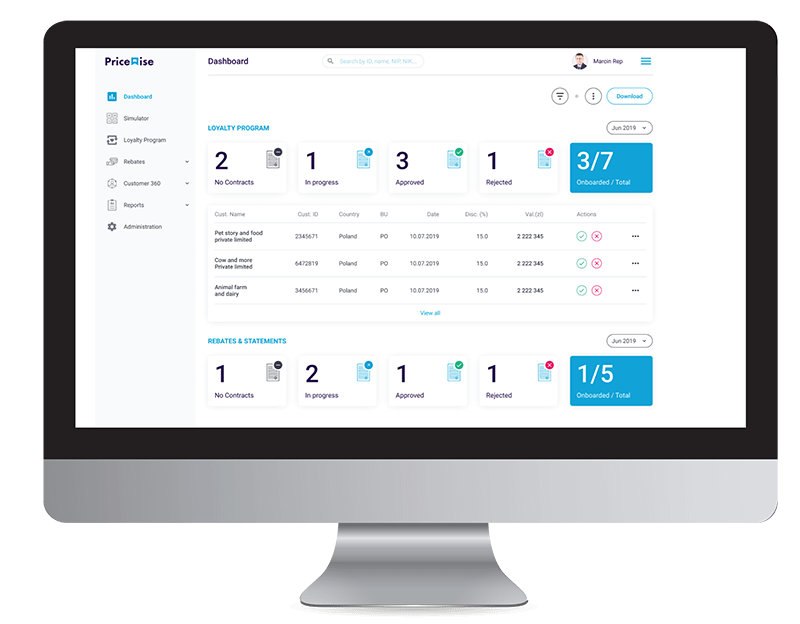 Lassen Sie sich von einem unserer Experten zeigen wie PriceWise funktioniert. Füllen Sie hierzu das beiliegende Formular aus
Address:
C&F S.A.
ul. Domaniewska 50
02-672 Warsaw
Poland